Ensure the Right Message is Received
When you hold an important conference or presentation with foreign language speaking attendees, you need to be sure that everything is executed flawlessly.
From the keynote speakers to the arrival of the guests, the break times, and the catering; organizing a conference is a big challenge.
So the last thing you want to worry about on top of all the arrangements is whether your message will be accurately translated and correctly received, or if the conference invitees will go back home having failed to understand the key points.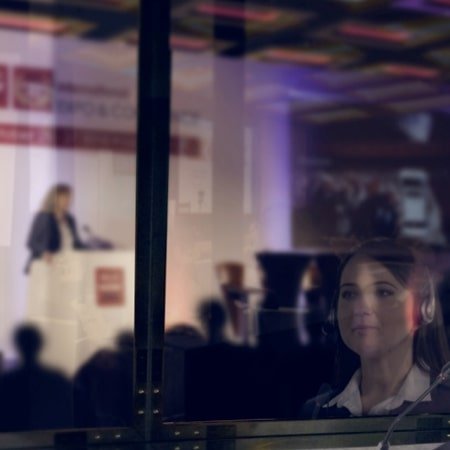 Experts in Conference Interpreting
We provide all types of conference interpreting in over 100 languages. We can offer a team of interpreters for large events, or one single interpreter for smaller gatherings.
We work alongside the very best in the interpreting profession, who hold different subspecialties. Our conference interpreters are not only trained experts in languages and interpretation, but each interpreter specializes in a specific field. From biotech to engineering, our conference interpreters understand the most unique terminology in your industry.
We work closely with you to ensure that you are paired with the best interpreter for your conference's topic. Plus, we take time to understand and confirm the schedule of events thoroughly beforehand. You can hire all necessary conference equipment through us, and we will ensure that everything is correctly set up and in perfect working order throughout the event.